After reached +20000% in just two weeks on Bittrex, Monaco launches today the new Mobile App to bring cryptocurrencies to every Wallet.
The Monaco app allows users to spend bitcoin and ether conveniently in everyday life.
The App is avalable in the App Store and the Play Store
Downloading the app you can pre-register today to reserve your Monaco card today.
Monaco released many cards, in order to satisfy the needs of each customer. Here you can find a recap of the listed products.
The most expensive one is the Obsidian Black, that has unlimited Interbank Exchange Rates Limit and $1,000 Free ATM Withdrawal Limit.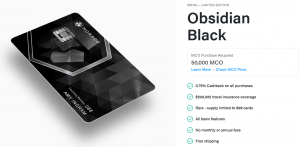 The Precious Metal costs 500 MCO and has $10,000 Interbank Exchange Rates Limit and $800 Free ATM Withdrawal Limit.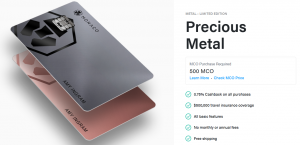 The Ruby Steel card costs 10 times less than the previous one, only 50 MCO, and consequently has lower limits for Interbank Exchange Rates and Free ATM Withdrawal.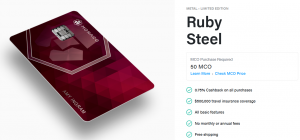 The last one, Midnight Blue, is FREE! It's a plastic card with all the basic features, no monthly or annual fees and free shipping. It's very difficult to find a competitor that offers a card with similiar features without any cost.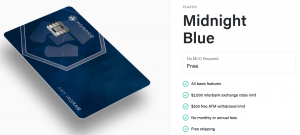 The amazing features of the cards combined with the efficiency of the easy-to-use App is the perfect solution for every need.
The Monaco App can be described in these few lines:
– Industry leading credit card security
– Earn 0.75% cashback on ALL transactions with Monaco Platinum cards
– Up to 8% savings on exchanges compared to the high street banks
– Send and receive money with any Monaco user instantly with 0 fees
– Fund your card via bank transfer, credit card or cryptocurrencies like Bitcoin and Ether
– Spend your cryptocurrency like cash anywhere
– Customize notifications and alerts
– Next generation card security to instantly block or unblock your card with a tap
– 24/7 customer support
– Make and manage all your transactions seamlessly via the Monaco mobile app
– Absolutely positively no hidden fees
Read here our presentation, when Monaco announced the launch of a new Ethereum and Bitcoin Debit Card