Two weeks ago we presented RISE, a platform for Decentralized Distributed applications, Smart Contracts and Side-chain/token asset creation, powered by a Delegated Proof of Stake (DPoS) blockchain. Read here the blog post.
Today we follow that introduction up with a more detailed analysis. In order to help you to evaluate this project, have a look at this professional and easy to understand video made by Doom, a RISE delegate:
Delegated Proof of Stake System
101 Delegates
1 vote per wallet address
Block time: 30 seconds
Block reward: 15 Rise (first year)
Round time: 50 minutes 30 seconds
Rise plans to support multiple programming languages, such as
C#, JavaScript, Ruby, Python
and
JAVA
.
For developers, the technical documentation for the RiseVision Project can be found in their
GitHub
.

Business proposals
According to their brand new website, the main efforts will be addressed to the development of the Rise Blockchain Incubator. There is a rapid growth of blockchain startups and RISE aims to intercept this trend, assisting emerging companies to build mobile Dapps on top of its blockchain.
For this reason, a Rise Mobile Dapp store is in roadmap. The whitepaper will be released in about September 2017, while the release of Rise Store 1.0 is scheduled for first quarter of 2018.
Talking back about the Incubator, Rise will assist the selected projects from the idea till the launch in the market, but the team also will put in place the full technical experience needed for coding the project.
At the moment there are 4 projects lined up using RISE blockchain incubator services and there will be a competition announced for future projects whereby people will pitch to the team their ideas and they will help finance and build the most promising of them.
For all blockchain startups that Rise builds the following distribution and allocation model will be used.
70% Token Exchange / Sale
10% Development Team
20% Rise Holders
There are 2 projects already disclosed: Interlet, designed to be in direct competition for centralized vacation rental services like Airbnb, and Chipz, a fully operational casino built in conjunction with an established casino software supplier.
Team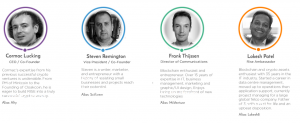 Additional Resources
Web-based wallet: https://wallet.rise.vision/
Desktop wallet: https://rise.vision/index.php#wallet
Desktop wallet installation guide: https://www.youtube.com/watch?v=4_z96boH4A8
Official delegate proposals: https://forum.rise.vision/category/5/delegates-proposals
How to vote for a delegate on the desktop wallet and earn RISE: https://www.youtube.com/watch?v=juO60dM0yMk
Rise Website: https://rise.vision/
Rise Slack: http://slack.rise.vision
Facebook: https://www.facebook.com/risevisionteam
Rise Forum: http://forum.rise.vision/
Rise Twitter: https://twitter.com/RiseVisionTeam